Comfort Pitches with private sanitary facility
Who wouldn't want to go camping at the farm in comfort and with privacy? Our new Comfort Pitches lie in the lee and are equipped with a private sanitary facility. Close by, without waiting times and with your own toiletries always at hand. The Comfort Pitches with private sanitary facilities are inclusive:
Shower (no coins required)
Toilet and toilet paper
Sink with hot water, also for dishwashing
Heated, and with towel radiator
Mirror and plateau
Outside facet
Power point (usage included)
Places 24, 25, 31, 34, 41, 42, 43 and 44 are with a paved platform 5 by 5 meters.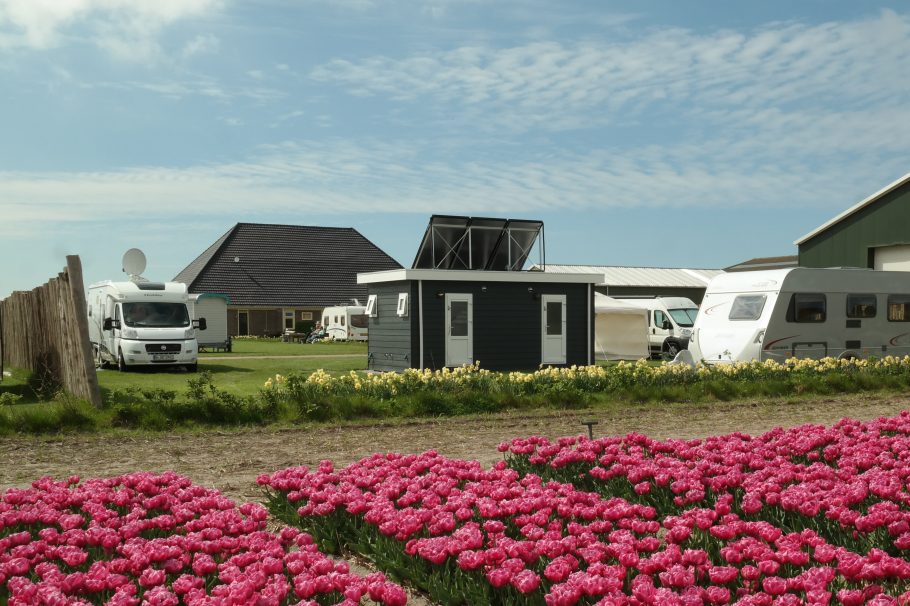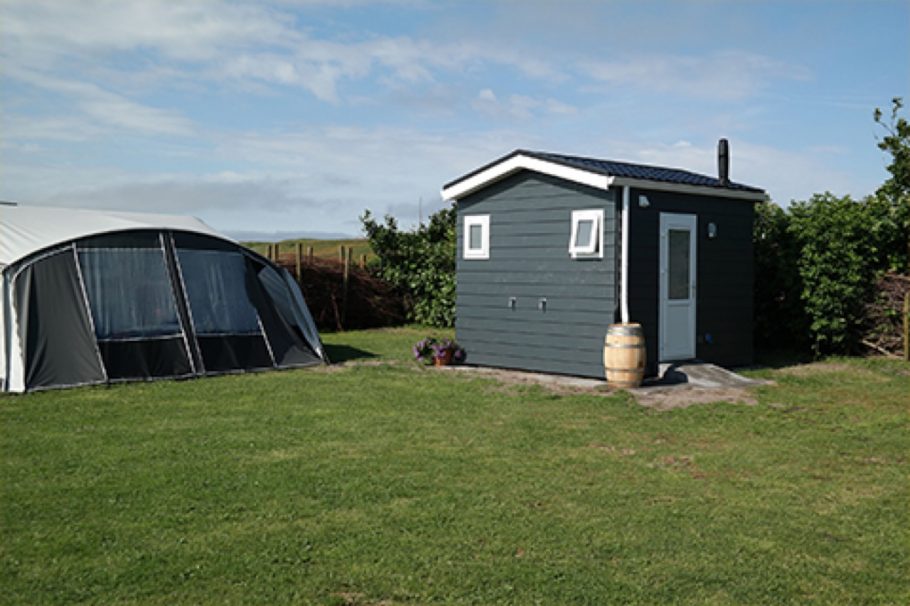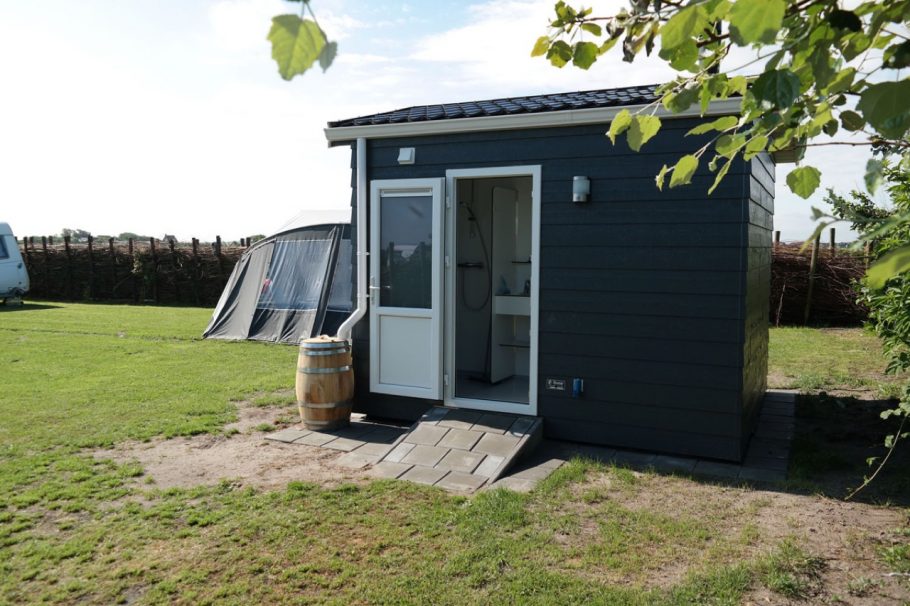 Private sanitary
We have 16 places with private sanitary in total. The private sanitary is right next to your comfort location: you no longer have to walk to the general sanitary building. These pitches are slightly more spacious than the standard camping pitches and offer you even more privacy. You get your own key, so you can just leave your shower items. Ideal for campers who like to take a break. The comfort pitches with private sanitary facilities are on the narcissus field,
Places 24, 25, 31, 34, 41, 42, 43 and 44 are with a paved platform 5 by 5 meters.
The last eight comfort pitches run entirely on solar energy.
At Duinzoomhoeve you have access to free WIFI and you can read the newspaper (Telegraaf) every day, which is located next to the washing machine in the general sanitary building. The Duinzoomhoeve is traffic-calmed and without ditches around the campsite.
There is also a service area on the edge of the campsite. Here you can discharge your waste water and fill your water tank. You can also empty and clean your toilet cassette.
Members of ANWB Campingcard, SVR, ACSI, MiniCampingCard and NKC also receive a € 2 discount per night.
Note: Please use tent carpet in the awning and under the tents
We would like a green lawn in front of the camping pitch for every guest and that is why plastic rugs, root cloths, eco-cloths and groundsheets are not allowed in the awning and tents. We have noticed that the grass is completely destroyed by the aforementioned cloths and we do not want that. Therefore, only the use of a tent carpet is allowed on our green camping pitches. You can rent the right tent carpet from us.
Eating outdoors, taking a go-kart track or quietly diving into a book
Your comfort pitch has many inclusions. First is the extensive outdoor cooking area. Here, you will find a barbecue and a pizza oven. The table and chairs are already waiting for you. This place is also suitable for cozy campfire evenings with delicious marshmallows. You can take the wood yourself from the covered bicycle shed. Do you want to try something new on the fire? Mary is happy to lend you the right kitchenware to make waffles, hot dogs, toasties, hamburgers and soup!
There is plenty of room in the covered bicycle parking area to park your bicycles and to charge your e-bike. In the barn there is a new, general fridge-freezer combination that you can use. Nice for an extra cool drink on the beach.
If the children are happy, you will be happy. With a family of three children we know what makes children happy during the holidays. Your children will have fun for days at a time with our go-kart park: duo bike, balanz-bikes, pedal-goers, choppa and a twister go-kart. There is a sandpit for the little ones, a climbing pole for the youth and a bird's nest swing for young and old. In the Pinkenstal, our living room, you will find a cupboard full of games.
Read quietly on your vacation and relax. When you finished your book, you can exchange it in the mini library in the toilet block.
Want to grab a nap, read a book or magazine, or just relax care-free? Sit back and relax in our hammocks and sit/hammocks!